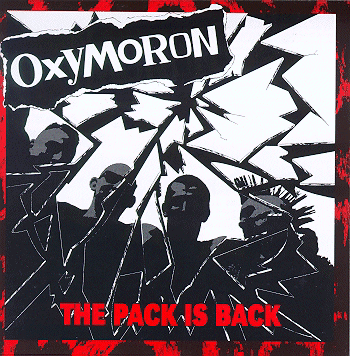 THE PACK IS BACK
Sucker/Lead vocals & guitar - Martin/Guitar & vocals - Arne/Bass & vocals - Bjoern/Drums - Backing vocals also by Kuebel, Chrissy & Stephan
This album was recorded and mixed by Lothar S. in February '97 at Power Station Studios
Thanks to: Chrissy, Kuebel & Lucky, Mosh, Schwein, Juergen, Lothar
Fuck to everyone who's telling lies about us and slagged us off
Produced by Lothar & Oxymoron
Cover artwork & photos by Schwein
Contact: Sucker - c/o Kicki Weyers - Heidackerstr. 8 - 91056 Erlangen - Germany
Thanks & greetings to: Anja, Biggi, Kicki, Florian & Matt (Walzwerk), Fracko (Pin Up), John (Barn End Videos), Mark (GMM Records), Sean, Stuart (Control), Achim (Roiber), Anita, Anke, Anti Heros, Blank 77, Bob, Braindance, Brooke (hide your hamster), Brassknuckles, Braun, B-Sides, Casualties, Chris & Dave (get in touch you cunts!), Choniuk, Eva B., Filzlaus Fisch, F.O.D., Frank (Plastic Bomb), Franz Flak, Guido, Heike, The Hinks, Hubi, Inky Ingo, Johan (Skoink), John (Vulture Rock), Jude (Aspirin still works... you?), Jutta, Klaus L. (Frankomania), Kronach - crew, KV, Lavatory Loaded, Lutz, Mirko (No Name), Medhi & Nelly, Neil (Tribal War), Olaf (Stagebottles), Ole (Springtoifel), Capsul (Combat Rock), Ralph, Rawside, Rob (... the Rich), Roger (One By One), The Romp, Roy Luna, Rumbier (... & the Binding Booze Boys), Schimmel (The Pride), Short'n Curlies, Smitty (The Choice), Spiller Stink (Du schoust aus wie mein Arsch...), The Sussed (1 the Pittsburgh Punks), Tobi & Wild Guitar Shop, Tom (Cargo Records), Trev (H.A.G.L.), Udo, Uegue (Rebel Tattos), Uli & Trudchen (Skin Up), Weissencher Bier, Wim (The Yuppies), Wolle (A.T.), the Erlangen Nuernberg - Mob and everyone who's coming to the gigs, writes us or supported us in any other way... prost.
Track listing: (Side 1) Get A Gun / Drown The Drain / Razor's Blade / You're A Bore (You Whore) / We Rule O.K. / Bleed / Concrete Jungle / (Side 2) Kamikaze / Obscene Army / The Pigs / Crazy World / Scream & Shout / Insane / Weirdoz
---
GET A GUN

What's the matter?
Could it be that you wanna prove you're keen
And a man who's man enough to fight?

I'm not sorry for your lot
It's your job if you get shot
But you tell me that you not afraid

What does a hero feel about
When the rest of his fellows is lying on the ground?

Chorus:
Hurry up - GET A GUN today
Hurry up - meet your destiny
Hurry up - GET A GUN today
Join them on their raid

Is your cause worth fighting for?
Or a country worth a war?
Hurry up and join the force tonight

What's the matter?
Could it be that you wanna prove you're keen
And a man who's mad about his pride?
---
DOWN THE DRAIN

Can you hear the sound on the street?
Voices carry far if there is a need
People staring, getting hectic
Boys in blue are turning active
When the time has come for the breed

Chorus:
Cause they don't fucking want
To wonder if they're safe
Cause they don't fucking want
To wonder if they see next day
No, they don't fucking want
To lose there dignity
No, they don't fucking want
To go DOWN THE DRAIN

You're told you have a say, are you sure
That justice is done the sarne for the rich and poor
I never saw them chase their own
Nor a bigwig beaten down
So why do you rack your brains about their score?
---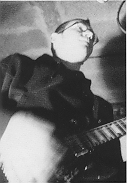 (DANCE ON A) RAZOR'S BLADE

This time he's gambling at his very height
As he's to move and pull the strings of fate
He's aware of what his blunders cause
He's turned it over in his mind for hours

Chorus:
That's like...
A DANCE ON A RAZOR'S BLADE

It rnakes no odds since now the chance is real
Restraints are hard but wounds will never heal
Can loose a lot but there's as much to gain
It's kind of dancing on a razor's blade

He's stepping on the edge of a chance he never had
---
YOU'RE A BORE (YOU WHORE)

I know all your moods and faces
You try a gaze that paralyses
Stand back from nobody and none
And drop your panties for a number one

You stick at nothing with the things you're running for
But don't tread on those who've served your scheme once rnore

Chorus:
YOU'RE A BORE, YOU WHORE

Let down friends are not to mention
You pretend to relieve your tension
I know that you can't love anyone
But you say you get the bloke you want

You feign like no other when you're out to reach a goal
You give what you get, but nothing's tree at all

I know all your moods and faces
You try a gaze that paralyses
Yo usay you get the bloke you want
But I know you're a sleazy cunt

But that's the way you are...
---
WE RULE O.K.

Take'em all and take the piss
It's time for a new riot
Scream it at the nation
That we ain''t gone so far

Chorus:
Wc'rcthebeetcausewc-retheones
If s not the class that you are from
Yes, all minorities get oppres
But'Ne're tyle ones so fuck the rest
... I don't think I will conform

Twenty years of struggle
Left fragments on the floor
But we're the generation
To pick'em up once more
---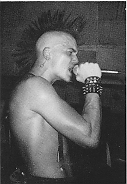 BLEED

Once the king you bro'jght on your decline
You tried to make it on the borderline
Now I can't help you treating you with deep disgust
Cause too much set me wondering in past

You don't stick to what you say at all
But now your lies are catching up with you
I can't see no friendship beneath your facade
Your true intentions are to feed your pride

Chorus:
BLEED
you're a liar
go away
you're a shame to me

Your game is slyly played, but at what a stake
Friends ain't toys to play with as you like
Spin'em around with flatteries, then suck'em out
Will it ever get stuck in your throat?
---
CONCRETE JUNGLE

In the shadow of the concrete giants
Got to live there from day to day
Grey cold houses have been there for too long
Hear the voices of the kids'sad song

Chorus:
In our city grows a bomb

In this wasteland they've bred a new age
Crammed together like rats in a cage
They've built a time bomb that is running fast
Use their fucking coencrete to plug up their arses

It's the place where you're at home
Have grown and where you roam
Hell, how you hate this town
- this CONCRETE JUNGLE

Got nowhere else to go
Looks like this anyhow
Has transformed in a ghetto
- this CONCRETE JUNGLE

The streets look desolate
And decay has set in there yet
Oh what a dreary sight
- this CONCRETE JUNGLE

Their dreams of progress
But the empty shells remained
Where the now lodge ou kind
- this CONCRETE JUNGLE

It's a wastland of ???
Where crime and ???
That's a fact they ???
- this CONCRETE JUNGLE
---
KAMIKAZE

Living in a shell had never been a thing for me
Safe in private places you just ponder what's to be

I'm in need of action but you rather fade away
Living in your own world where you keep to things you can take

Chorus:
You slogged all day and get your pay
And lock yourself away

Are you sure You're living?
- Just going through the motions
Ordered life and slaving
- I'm fed up with this bullshit
Are you sure you're living?
- Headlong into my fate
I'm better off without it and live on straight ahead

All the time you're abusing those you claim who go astray
Still don't dare to break out of the boring life you lead
---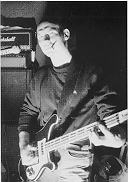 OBSCENE ARMY

Chorus:
The OBSCENE ARMY

The crowd has gathered and we turn on the heat
To put an end to this boring shit

With boots, spikes and leathers, with bowlerhats and crops
We're straying through the gutter as a pack of hounds
---
THE PIGS

Bluelight screaming, figures in the dark
Shelter-seeking, but you've run so far
They gonna get out if you're slow and put you in a cell
You don't wanna be arrested so you run like hell

Chorus:
Here comes ... THE PIGS
They always nick the underdogs

There's no regret but nowhere to go
Draw back, breathing, but you've run to slow
They don't care if you're innocent, they don't care if you're right
They're looking for a scapegoat and they found their prey

... hide or you're getting screwed
---
CRAZY WORLD

Your life's so weird you doubt it's real and reject it all
Cause years ago when you were a child no one told you so
Well , I know about your problem, there's loads loke us around
So don't make no secret of what you found out

Chorus:
' C'mon, the world is crazy
An open loony bin
No walls fix the species
Of psychopaths within
... and we're all part of it

The white coats simplydraw the line for their own defense
Say, who defines normality and where it ends ?
If those they call lunatics are mental home inmates
Then we're just the ones in disguise

Just look around, what do you see?
The world is crazy, but so are we
You can't find out what's going wrong
Cause you're as well out of control
Lurking out there on the streets and wherever you go
A morbid world's awaiting you with stange thing to show
---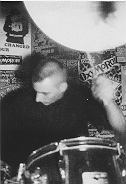 SCREAM AND SHOUT

They like to say that fortune sides with the brave
You've done your best and have failed yet, so it can't be right
Now you have turned the tables, and no trouble's in view
You try to hold it tight but ifs slipping through

Chorus:
You turn it inside out
You wanna SCREAM AND SHOUT
But someday you will see
That nothing lasts for eternity

I'd say that life's a battle that is meant to do
But if you're proving worthy you'll see it through
Each lime the tide turns for you, you made it you believe
But yet the other moment you're down again
---
INSANE

You drive me insane, my back's to the wall
I can't make headway with this pressure at all
My mind's upset I gotta get away
And jam the gearing of the whole machine
The people who suffer to get uniformed
Are wimps who needn't complain anymore
When they discover whafs happened to their lives
They're gonna pay the fucking price

Chorus:
You make me sick, you drive me INSANE
You're gonna take my mind away
But I'm not scared of what you do
What the fuck is wrong with you?

You drive me insane, my back's to the wall
I can't make headway with this pressure at all
You declare me a yob but don't figure out
That I ain't gonna end up being so fooled
It seems that your mission is to blind-fold the crowd
As brainless masses can't complain anymore
And you create a new hoax everyday
While human brains keep rucking dying

INSANE - go away, I gotta get out
better get away with you
---
WEIRDOZ GO HOME

A bunch of thugs' approaching
You're molested for no reason
With faces looking angry
You're beaten till submission

Chorus:
You're kicked in the head
You're better off fucking dead
Oh - endless trouble
They ain't gonna rest until the job is done
Six to one truly tough, you scum

WEIRDOZ GO HOME
... that is all you hear them shout
WEIRDOZ GO HOME
... You can hear them jeer aloud

Finally it's all over
Smeared with blood in the rnirror
You've been out for pleasure
But they were out for terror (and that was bad luck)

We'll come back, wait and see
Rest assured you'll be screwed one day
We'll corne back, ready and mean
And we'll stomp on your face
---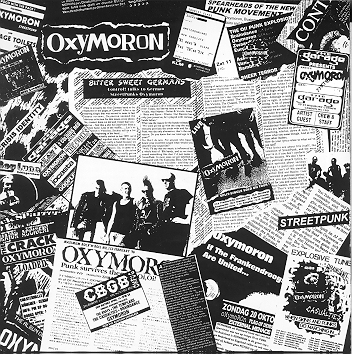 Back to the main page.