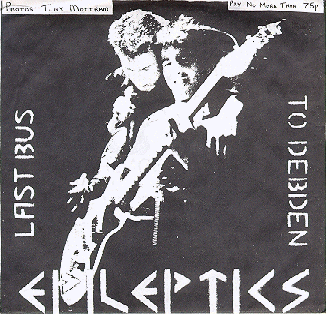 LAST BUS TO DEBDEN
Colsk (The Terrible) Latter/Vocals - Kevin Hunter/Guitar - Derek Birket/Bass - Richard Coveney/Drums - Person Unknow/Trumpet
Thanx to: Jon V., Judy V., Jon L., Sue C.
No thanx to: Anti-Pasti
Recorded live at Triad on 5.9.79 by Jon V & Bax
Photos: Tony Mottram
Spider Leg Records c/o Rough Trade
Track Listing: (Side 1) Target On My Back / What'Ve You Got To Smile About / (Side 2) Tube Disaster / Two Years Too Late
Spidle II - Black vinyl - 45 rpm
---
Page 60 SOUNDS January 24, 1981

PASTI CARING

DEAR SPIDER LEGHEAD (Letter, January 3), although Anti-Pasti have recorded the track two years too late, theit ex-manager (Dave Direktor) gave our lead singer the lyrics and said it was alright to record it, as the Epi-X has split and would no longer be playing the number. All credit to Epi-X (Flux of Pink Indians) for wrinting a good number. Thanks for the photo and the publicity (any publicity is good publicity). But since that photo the ba[...] has acquired a new drummer and bassist.
- Kev, Lon[...] Pete on behalf of Anti-Pasti.
---


ANTI-PASTI: are these the guilty men?
---
Page 52 SOUNDS March 21, 1981

ANTI PASTI from page 16

FOR A couple of weeks a minor controversy flapped around in Sounds letters pages concerning alleged pirating of material from other Derby based outfits. A now defunct group gave a demo tape to Pasti, and after the split they decided to cover the song themselves, as they liked it.

Our spagheti punks had no idea the other unit had reformed, and weren't informed on nasty details like copywriting - so pure accident stirred that strom.

Apologies to any aggrieved parties from the band, and I hope the subject's now closed!

Wasn't pursuing punk a touch [...]
---
28th June, 1980 New Musical Express - Page 3
BIKERS RIOT AT STONEHENGE
A NIGHT of violence all but wrecked the weekend's Stonehenge Festival. The trouble erupted late on Saturday night when a group of middle-aged bikers went on the rampage, attacking every punk they could lay hands on, and effectively preventing Crass and Poison Girls from playing their sets.
The evening began peaceably with music from Nick Turner's Inner City Unit, The Mob and The Snipers, but when punk band The Epileptics took the stage they were greeted with nail of flour-bombs, cans and bottles. Their lead singer was knocked to the ground by a bottle.
The bikers then set fire to The Epileptics' banner, attacked members of Crass and Poison Girls, damaged the generator and took ober the stage. Crass [...]
---
TRIAD LEISURE CENTRE
R. Coveney
5th December 1979
Bishop's Stortford,
Herts.
Deer Sir,
Further to your communication of the 3rd December, I wish to state categorically at this stage that I think all of you long haired lay-abouts would benefit from a long stretch of national service. If I had my way, everyone under 21 would have their arms and legs amputed at birth.
I notice that you're under the impression that your ensemble has been banned from Triad, this is only partially true, infact we tried to ban you from the entire Greater London area but decided it would be hard to enforce. As a compromise we have decided to ban your musical outfit from playing any further concerts at Triad until such time as you have undergone suitable occupational therapy or remedial training to our satisfaction. It is however, important to note that where as we no longer requireyour limited musical abilities, you are certainly not personally banned as individuals from attending events here as we are still happy to take all the money we can from you. Needless to say the reason why we have taken this action is due to observations made by our resident behavioural psychologist who noticed a close similarity between yourselves and other members of the primate species, notably the way in chich some of you were swinging from a spot light. The spot light itself may recover we understand, as the bulb can be replaced and the wiring may be repairable, however it did undergo a great traumtic experience that may scar it for life. In addition to this upon deciphering many of the hieriglyphics that had been inscribed around these premiseswe noticed the persistantly obscene linguistics which occured and decided that this may be detremental to our sensitive natures. The gentlemen who supplied the public address system for you was also some what dismayed by the occurences of the evening and was intending to send you a bill for the damage to his speaker cabinet but felt that you are unable to read thus rendering this action pointless.
May I suggest that you contact Mr. Johnny Morris regarding future gigs as he may be able to give you a booking on Animal Magic. I trust that I have not offended you any more than your action offended myself, but in the event that I have, that is just though shit.
Yours sincerely,
JON AITCHISON
Director
P.S. Please come back and spend lote more money here soon.
---
Back to the main page.